This is my little girl's new addition to her stuff animal.
The Daddy and the daughter went to Tractor Supply to buy some feeds for the turkey and deer. She found this white chicken in the store.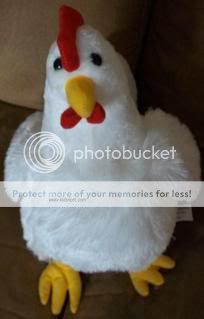 How can her Daddy resists for not buying it for his daughter, right? She is so much alike with her Daddy. She loves animals. I am sure this little girl of mine is a farmer. She loves animals so much. She takes it from her Daddy. I think the chicken is so comfy and adorable. I know that father and daughter wants to buy chicken. I just do not like the idea, why? It is because we have no place to keep it. I am sure that my husband once started to have animals outside. He wants to build a barn. We have a barn in our old house and animals. We even have chickens that we left in that old house. I hope the new owners take care of them. I am linking this entry to Wednesday Whites.